Welcome
Bouda pod Sněžkou lies at the very end of Obří důl.
You can eat well and spend a night at an altitude of 950 metres only 2 kilometres far from the Sněžka summit. You cannot be any closer to our highest mountain. You have Sněžka at your fingertips and you will never get tired of this unusual view.
It is a half an hour pleasant walk from Pec pod Sněžku. If you spend a night at our chalet you can be the first at the mountain ridges of Krkonoše. And if you want to see the sunrise right from the Sněžka, we will prepare breakfest to take away in your backpack. You can even enjoy the relaxation in our sauna – what more could you ask for?
News
Skialpinism base "Pod Sněžkou"!
The winter season begins and we have some news for you:
• filling bottles for avalanche backpacs Mammut and Snowpulse • Snowshoes rental • avalanche and skialpinism courses under the guidance of expert on avalanche issues • mountain guiding for individuals and groups
Every guest of our chalet can draw a 7 % discount at our business partners upon presentation of receipt:
www.norskamoda.cz  – "Nejlepší volba do hor!" www.horolezeni.cz a www.alpsport.cz
On-line camera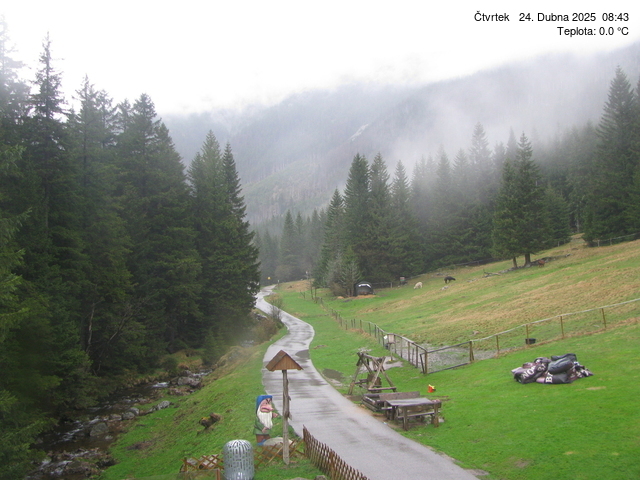 Our services
Tourism
Chalet is located at a unique place – secluded at the end of the path in Obří důl, which is called the pearl of Krkonoše for its beautiful nature. We lie in the second Krkonoše national park zone, 3 km away from tourist center in Pec pod Sněžkou, at an altitude of 950 metres, a beautiful place of silence and stars…